Photography - Introduction
The photographic images shall reflect Cloetta's Corporate Identity. There are four important parameters relating to how photographs should be perceived: joyful, warmth, sharp & focused and contemporary. These are the key words as to what the pictures should convey.




We have three categories of imagery: people, surroundings and products. These categories contain all the information and situations that are required to take successful photographs. In all photography, we need to think about arrangement of the subjects or objects we are photographing, and how they are photographed. Photographs should be taken using natural light, depth of field or motion blur and colour.





If you are taking new photos and need to provide the photographer with instructions, there are separate guidelines for this in the photo brief. Please contact profile manager for a copy.



Image management
There are two levels of photography: central production (Internet, image campaigns, etc.), which is the highest visual ID level, and in-house production (print, news letters, information for members, etc.) that is lowest level that we may not go below. These levels determine whether we will use a photographer to take uniquely selected and creative photos (highest level) or if we will use image banks and available photos (lowest level).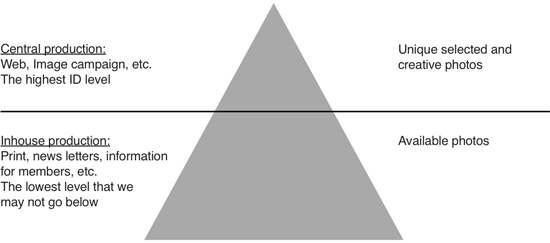 Photography - Examples